50th Birthday Party Favors
Ahh, the beginning of the "Golden Years." This milestone is met, not with the apprehension of 40, but with pleasure and a sign of relief. Kids are out of the house, work has started to pay off, bills are generally a little less...it's a time to celebrate the beginning of the next wonderful phase in adult life!
Party Favors 50th Birthday - Ideas
---
Cookies. Any type of cookie is always fun. Shape yours in the numbers 5-0. For a fun twist, make individual designs on as many pairs of 5 and 0's as there are guests. Place a 5 on each plate. As guests come in, have them pull a 0 out of a basket. Then send them to find their seat by matching their 0 to the proper 5.

Candles. Take a gold or white votive candle and put it in a small clear glass. Buy 5-0 embellishments in gold (from a place like Michaels) and affix them to the shot glass.

Gold Pens. Buy as many gold craft pens (again from a place like Michaels) as there are guests. Create a small tag that says "(Person's Name) has entered the Golden Years" and attach it with a gold ribbon to the end of each pen.

Fortune Cookies. Wrap individual fortune cookies in gold foil. Create a small tag that says "Share (Person's Name) good fortune as s/he turns 50!" For a twist, include a stamped/addressed envelope to the guest-of-honor with directions for the person who receives the favor to open the cookie and save the fortune until the guest-of-honor's 51st birthday at which time they should send it back.

CD. If you are really creative, create a CD of about ten songs from the year the person turning 50 was born. Create your own labels with a picture of the guest-of-honor and an insert with song titles.
---
Here are some really cool 50th birthday party favors we've found.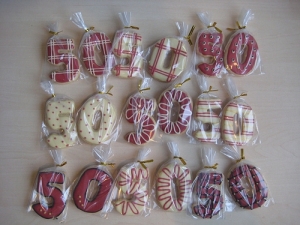 50th Birthday Cookies. See above for fun idea on how to present the favor to your guests!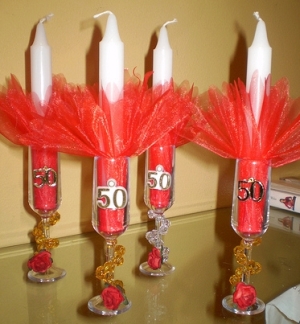 A unique candlestick with 50th Birthday decorations.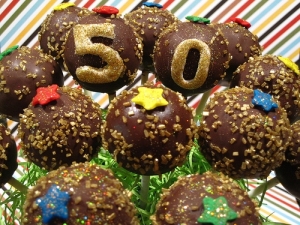 Cake pops decorated for 50th Birthday and sprinkled in edible gold dust.





Back to Unique Birthday Party Favors
Return from 50th Birthday Party Favors to Home.