About Us: Perfect Party Favors
Hello and thanks ever so much for visiting Perfect Party Favors! My name is Desiree and I am the creator and sole owner of this site.
If you are visiting this page you must want to know a little bit more about the brains behind this operation. So let me tell you a little bit about us.
A few things for you to know about Perfect Party Favors...
PPF is our abbreviation. You'll see it periodically throughout the site!



This is our logo. We use it on social networking sites such as Facebook or Twitter and article sites such as ezinearticles.com. This logo is our trademark so if you see it used inappropriately, please let us know immediately!

We love to chat! Feel free to always contact us with your questions, thoughts, or desires!

The "US" in "About Us" refers to me, Desiree, and the friends and family I rely on to help me envision the ideas behind this site.
PPF is my second site built with SBI, a company I found when researching the best way to build a website in 2007. At that time, I had just become a stay-at-home-mom to my first child, Max (now 4), and was hankering for something to do to keep my mind active and my sense-of-self established. That site, should you like to visit it, is Book Club Queen. I instantly fell in love with website creation and knew that I would spend many years to come thinking up new ideas and building beautiful sites. Fast-forward a few years to the birth of Perfect Party Favors and the birth of my second child, Chloe.
I tried my hand at a few different ideas...a teaching site (I have been a teacher for many years) and building sites for small, independent companies (still up-and-running today!), but ultimately realized that my real love for website building lay in sharing my personal knowledge about things I love with others.
This got me thinking about what other subjects I knew plenty about. I went through months of agonizing over different topics - baby items, kids toys, holiday planning, advice for couples...the list was endless. Finally, I went to my husband and said "I need some help! I know I want to start a second site that is as successful as Book Club Queen but I'm thinking on it so much that I've completely lost my sense of direction!" And boy did he step up to the plate (I knew I had good reason for marrying him!). He said "well Des, you are always thinking about the next party we are going to host and making lists of all the little things you can do to make it special for our guests...how about a site on parties?"
I told him I had thought of party planning as a concept but that it was overwhelming to me, but I recognized that he had hit on something I enjoyed and was good at. I spent several weeks letting the idea incubate and ended up deciding that party favors are one of my favorite things about hosting...and an area of party planning sorely under-represented on the web. Thus, my second site, Perfect Party Favors, was born!
My ideas come from many places - personal experience, picking the brains of my best girlfriends, and visitors who write in to tell me about a party favor they've encountered that's worth sharing. Most recently, I've spent time on www.flickr.com, a photo-sharing site where zillions of creative women post pictures of their best party favor ideas. I've been fortunate enough to share some of those with you on this site.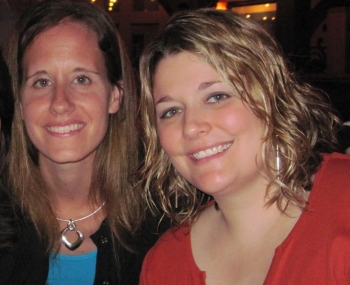 And I would be remiss if I didn't give a shout-out to my best friend and sister-craftsgirl, Kristina. She is the proud momma of Kristina's Cakes, a specialty cake business based in Maryland. Without her perfect party planning advice, I would never come up with any of the ideas I have so far! Her Monsters Inc Favors is one of the most popular pages on our site!
I'd love to hear about your party favor ideas. Please feel free to contact me at any time of day or night and I'll be sure to get back to you!
Thanks for visiting!