Make Party Favors of Your Own
General Favor Supplies
You may decide, rather than buying premade favors, you'll make party favors for your event yourself. If you have the time and creativity, we say go ahead! Creating unique party favors can be very fulfilling.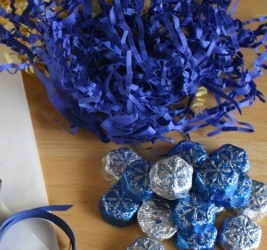 When we say "make party favors" we don't necessarily mean the same thing as "baking from scratch." Another way to say it, "you don't have to reinvent the wheel" (can you tell we love cliches?!)...if you plan to make the favors yourself, there are a standard set of supplies/items you're going to want to think about having on hand or using as part of the favor. These are the pieces you don't have to make but can buy online or from a craft store like Michaels.
Favor bags or boxes
- It's up to you which ones you use but most favors are going to be housed in one or the other. See our ideas about
party favor bags
or
party favor boxes
to decide which type you'd like to use. Then shop
Beau-coup.com
for the style boxes or bags you've chosen!
Favor Tags
- The easiest (and best) way to personalize any favor is with a favor tag. All you have to do is take a pretty piece of ribbon, punch it through the tag, write a clever thank you message, and tie it onto the favor. Guests will always remember your party because you took the time to personalize their parting gift. If you don't want to make your own favor tags (think cardstock cut-outs or Cricuts), you can purchase them premade from
My Own Labels
who create customized tags for all your favor needs.
Ribbon - The perfect favor always needs the perfect ribbon to complete the look. Whether it's for decoration or to tie a "thank you" card on (or both), you definitely need to have a supply on hand. The best place to buy ribbon is at Walmart, Michaels, or JoAnn Fabrics. They have the variety and the prices can't be beat.
Embellishments
- We talk about these quite frequently throughout PPF. An embellishment is usually some sort of sticker - flat or 2D - that enhances the theme of the item you are creating. See an example on our
Thanksgiving Party Favors
page. Again, Michaels (can you tell we are frequent shoppers there?!) is a fantastic place to find these. The best brands, in our humble opinion, are Jolees, Reflections, and EK Success.
Marker (or writing utensil of some kind) - Seems silly but I can't count the number of times I've gotten ready to handwrite my favor tags (because sometimes I like them to feel that personal!) and realized that the Sharpie or Calligraphy pen I was planning to use either mysteriously disappeared or somehow had gotten used up (think 4-year old boy). PPF ALWAYS recommends Sharpies. We totally ♥ them! If you're not a Sharpie fan, try the brand Le Plume which you can find at most craft stores. Great colors, great selection of tip styles, great price!
Favor Fillers
- Obviously, if you make party favors, the contents of your favor will totally depend on the party theme! Supplies can be purchased at a number of online shops. We have a few favorites which you can find on our
Favor Deals
page.