Kids Party Favor Ideas
Kids party favors just may be the most fun favor of all to create!
Why? Because as you put each treat or trinket into your party favor box or party favor bag, you know that a little, very excited hand is going to pull it out with love.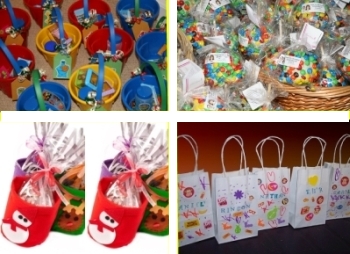 The enthusiasm children carry around with them is infectious. I know when I create my son's kids birthday party favors that I am just as excited to hand them out as the party-goers are to take them!

The obvious party favors for kids you are probably looking to create are for birthdays; however, there are other kids' parties out there that you may be working on (think baptism's, pre-school graduation, holiday parties, etc). The goal of this section is to give you generalized guidelines for creating the prefect kids party favors for your event.
Kids Party Favor Ideas
Types of Parties
Birthdays
Holiday play-dates (Halloween, Valentines Day)
Pre-school graduation
Baptism or Confirmation
Bar/Bat Mitzvah
Summer Pool Party
Supplies for Handmade Favors
Party favor boxes or party favor bags
Favor Tags with ribbon (for labeling with each guest's name)
Two-three themed items based on party type
Three-four edible treats (can be based on party type or general age group-appropriate items)
General Construction: Party Favors for Kids
Choose either a party favor box or party favor bag depending on the theme of the party. For example, if you are hosting a Toy Story party,
you will definitely be able to find a pre-made bag at Wal*Mart or other such stores. If you are hosting a Halloween party, there are a variety of boxes and bags available in this theme that you can buy. However, if you are hosting a party for a more obscure theme (think Grover from Sesame Street or Super Why from PBS) then you'll probably have to make your holders. You can do this by choosing a vibrant color that matches the character or theme. Places like Michaels have boxes and bags in every color, shape, and size.

Next choose the treats to add in the bag or box. These can be theme, age, or gender based, depending on your choice. For the Toy Story party you might add in a plastic Sheriff's badge, a sheet of TS stickers, a bottle of bubbles, and 2-3 candies. This is an example of a combination favor bag. The options are endless and we'll go into more detail about specific themes later on.

Finally, decide how you want to display each child's name. If you use a bag, tie it off with a small piece of ribbon and attach a name card to the ribbon. If you use a box, close it up and use scrapbooking letters (found at any Michaels) to spell out each name.
Any of these kids party favor ideas can be used in conjunction with our general party favor ideas to create the perfect gift!