Patriotic Party Favors
Who doesn't love a great summer bash...especially in honor of the U.S. of A?! Patriotic party favors are a great way to show your guests that you appreciate their attendance and honor America all at once!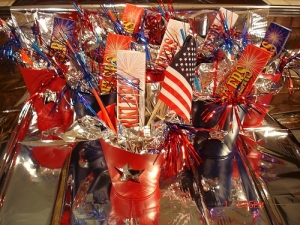 July 4th Party Favors
As with any other party, you'll first need to decide whether or not you want to make party favors or purchase them. Either way, here are some of our favorite ideas below.

Sparklers. Take about 5-6 sparklers out of the box and tie them together with a red, white, and/or blue ribbon. Put them in either party favor boxes or party favor bags in patriotic colors. If you feel really craft, get plastic buckets in flag colors and print your guests' names on them!

Fireworks. Only appropriate to give to the adults!!!! Buy small, harmless fireworks like Roman Candles or Bottle Rockets and tie them up in red, white, and blue! Add a package of customized matches for extra flair.

Candies in USA colors. M&Ms are your best bet - separate them into red, white, and blue. Put them in clear cellophane bags and tie them up with a themed ribbon. To personalize, add a "thank you" tag with a flag embellishment and guests' names.

American Flags. Give your guests something to wave during the fireworks! Purchase mini-American flags and attach a "thank you" card to the wooden pole using patriotic colors. Guests can use them during the party and take them home to decorate!

Glow Sticks or Necklaces. You can find these in blue and red but getting plenty in all colors will do just fine too! Hand them out in a festive bag or box and encourage your guests to light them up when it gets dark!
Patriotic party favors to Buy
Need to buy your July 4th party favors? Want a few themed items to add to your homemade favors? Try these below. (Keep in mind some are shown for corporate or town events; however, you can personalize any to match your individual needs).

Pom Poms


Candy Bars


Bubbles


Lollipops


Pinwheels


Personalized Notebooks


Return from Patriotic Party Favors to Home.