Christmas Party Favors
"It's the most wonderful time of the year..." and we agree! The holiday season brings with it a feeling of companionship, joy, and cheer. It's only natural that people want to spread that love and good will around which is why you're probably invited to at least three holiday parties a season!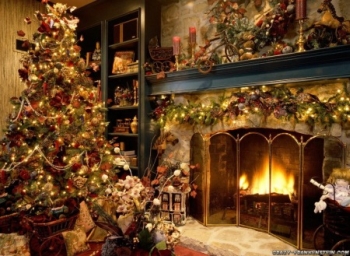 If you're one of the brave - the Christmas party hosts - you'll be thinking about what Christmas party favors you plan to send home with your guests.
Perhaps you lean towards homemade Christmas party favors. Maybe you want to do something unique and create a favor out of Christmas Santayana hats! Or maybe you'd prefer to spend your time in the kitchen and let somebody else handle the party favor creation. Whichever way you go, there are many options available for creating the perfect Christmas party favors.
Homemade Christmas Party Favors
Ornaments

Buy small colored Christmas balls (red, green, blue, gold, or silver) and personalize using a glitter pen with each guest's name. Another option is to go to Michaels or AC Moore and get a few packs of scrapbooking embellishments. Put a pretty embellishment on each ball. Package the balls in clear plastic boxes so they can also serve as a decoration during the party!

Purchase mini-photo frame ornaments and personalize with "Christmas 2010" (applicable year). Then be sure to take a shot of each guest or couple. After the party, send out a link to your Snapfish (or other online photo organizer) album so that guests can pull their picture and put it in the ornament frame.
Wreaths

If you are crafty, make small wreaths (about the size of your fist) from scratch. Here is a great resource for making wreaths. Decorate your wreaths with holly, ivy, berries, poinsettia flowers, and evergreen. Create small tags that show the event and year and attach to wreath.

If you don't wish to make the wreath from scratch, you can purchase ready-made wreaths from a craft store. You can find the perfect evergreen base and add your own decorations (same as above).
Christmas Santa Hats
Everyone loves a Santa hat! And everyone will remember a Santa hat party favor. As a matter of fact, they'll probably bring it back to the party next year!

To make your Santa hats even more fun, personalize them by using a glitter pen to add each guest's name. You can also hot glue gun on a small piece of holly&ivy to the brim for added effect. Some people will even attach a small Christmas ball to the pom-pom!
Christmas Stockings
Just like the Christmas Santa hats, people love to see stockings hanging from the mantle on a warm winter night. A perfect party favor for your Christmas gathering is a mini-Christmas stocking personalized with each guest's name and stuffed with a few small treats. The treats should be small Christmas-themed candies (think red Hershey's Kisses and mini Candy-Canes).
Other Christmas Party Favors
You don't necessarily have to make your favors. If you'd like to buy something quick and easy, try any of these: candy-canes, holiday-scented candles, little silk mistletoes, Christmas cookies, or holiday tins (filled with treats). You can personalize any of these by creating a simple tag with the event name and date and attaching it with a festive ribbon.

Finally, if you'd like to simply click and buy, browse any of the Christmas party favors in the right-hand column for ideas. You can click on any of the product links to see more available options.





Return from Christmas Party Favors to Home.