Party Favors Homemade for Summer
Party favors homemade especially for summer can take many forms -- all based on the type of party you throw. When you conjure up images of summer fun, what comes to mind? Lazy days, picnics, beach time, garden parties, pools, and lots of green!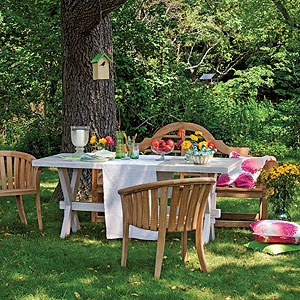 We're going to give you a few ideas of party favors homemade for your general summer get together first. Then we'll get more specific into some of the top summer themes.
Summer Party Favor
Any of the following favors can be used for any summer party.

"Fun in the Sun" pack. Gather any combination of the following items: sunscreen, SPF chapstick, a water bottle for spritzing, a battery-powered fan, a sunvisor, flip-flops, plastic sunglasses. Find little mesh bags or drawstring backpacks to load the items in. Personalize using indelible marker or paint with each guests' name.

"Summer Hunney." Find a local honey vendor and either buy jars that are prepackaged or, if it's more economic, buy a big batch and put it in jars yourself. Attach a "thank you" card to the jars with a festive ribbon matching your party theme or color.

"Grill Mate." Everybody loves to grill in the summer! Mix up your favorite grilling spice rub and package it in little bottles or baggies. Attach a "thank you" card and on the back give a few ideas of how to use the rub!

"Bug Off." Bugs are little pests that can ruin the atmosphere of any good party. Give your guests a favor that can work for them during the party and go home with them for other summer fun activities outside. Put a small citronella candle and a can of bugspray in a party favor box or party favor bag. Personalize with guests' names.

"Lazy Dayz." Who doesn't love a brand new beach towel?! Buy them in bulk in fun summer colors/prints and tie them up with a festive ribbon. Guests will remember your party every time they use their summer towel.
Party Favors Homemade for Specific Parties
A few of the most popular summer parties deserve their own page...
Pool Party Ideas
Splish-Splash, I was taking a.....pool bath!
Luau Party Favors
Hula your way into summer!