Halloween Party Favors
It's quite possible that adults anticipate Halloween with as much excitement as their childish counterparts! As parents, we love to find the perfect costume for our kid and watch proudly as they "trick-or-treat" their way around the neighborhood. As singles, we love to find the perfect costume for ourselves and saunter proudly around the adult Halloween party showing off our creativity. And of course - candy is involved for all!
Halloween, Halloween, oh what funny things are seen. Witches hats,
coal black cats, broomstick riders, mice, and bats!
Your guests will want to take home Halloween party favors, no doubt about it. Giving candy is surely an option, but there are many ways to dress it up a little so your party is the one people remember.
Kids Halloween Party Favors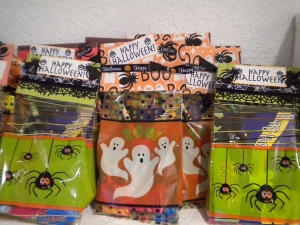 Treat Bags are the number one option for kids party favors. Here are some ideas -

Halloween-themed bags (cellophane, ziploc, paper...many options available at Dollar Stores, Wal*Marts, and grocery stores).

Fill each bag with Halloween candies and goodies. Small, affordable options - stickers, bugs, pencils, stamps, spider rings, finger puppets, temporary tattoos, vampire teeth, orange playdoh, glow sticks/bracelets, ping-pong balls decorated like eyeballs, candy corn, seasonal candy. All these items are available in Halloween themes.
Halloween Favors for Adults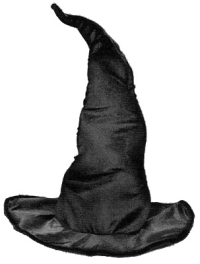 Halloween-colored votive candles (black or orange) personalized with event name/date and Halloween embellishments.

Halloween Leis for guests to wear during party and take home after.

Halloween drink cozy's for during and take home, personalized with guests' names and event name/date.

For female guests a witch hat and for male guests a pitchfork to play with during the party and take home after.

A small pumpkin and pumpkin carving kit.
Planning the perfect Halloween Party?

is the place to visit for all your scariest needs!
---
Our Newsletter
Be sure to sign up now to receive new favor ideas!
---
---