New Years Eve Party Favors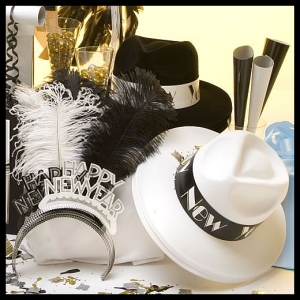 What better way to follow up a few months of holiday celebrations than with a New Years Eve bash?

New Years Eve party favors are a must for your event, whether large or small. Here's why - January brings the blues for most people. The festive season is over and life returns to normal. This normalcy, while wonderful, can also be a let down after months of social gatherings. Sending your guests home with a small trinket from the final fiesta of that year will bring a smile to their faces early on New Years Day (or late as the case may be!).

We've seen New Years party favors that range from the romantic to incredibly silly. We'll share our favorites below. Be sure to submit your best New Years favors to Favor Finders.


Best New Years Eve Party Favors
Small, cardboard bottle carrier filled with two small bottles of milk (some chocolate so guests could choose) and a bag of homemade cookies. Card on the front of the carrier reads "Midnight Snack - for those of you who need to fill your sloshy bellies before closing your eyes in the new year."

Champagne flutes personalized with guest's name and/or event name/year. You can have these engraved or do the personalization yourself with permanent paint or pen.

Colorful, whimsical glasses for guests to wear. You can generally get these in the shape of the upcoming year. Personalize by writing guests' names and/or event name/date on the side frame.

Beads, similar to Mardi Gras, that guests can wear for the evening, trade for hugs, and take home for memories.

Personalized fortune cookies filled with fortunes about the good things that will happen to your guests in the new year. Paper slips inside can include event name/date for added touch.

Small journal or notepad to record New Years Resolutions for the year to come.

Stress balls decorated with the upcoming year for those with stressful jobs!

Champagne-flavored/shaped chocolates tied up in gold cellophane baggies with guest's name and/or event name/year attached.

If you're gathering is small with close friends and family, think about getting a token to show something that each person has accomplished or survived that year. For example, someone who had a brush with sickness may get a survivors pin or charm; new parents might get a baby bib with the current year stitched on front; the person who received a promotion or found a new job could get something small to put on their desk at work like a nameplate. Remember, this option is for a small guest list.