Unique Baby Shower Favors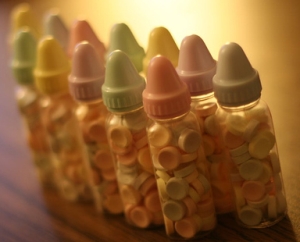 Unique baby shower favors are probably the most in-demand favor of all. There are websites and companies fully devoted to bringing you cheap baby shower favors and the best baby shower party favor ideas.
Unlike weddings, there is no real rhyme or reason for why many hostesses choose certain baby party favors over others. The obvious distinction is boy (blue), girl (pink), or unknown (green).
If the hostess knows the nursery decorating style, she might try to piggyback on it for the favor. If the baby shower is themed (think Noah's Ark or Ladybugs), then she may try to use that as well.
Baby Shower Party Favor Ideas
This is by no means an exhaustive list of unique baby shower favors. I will continue to update the list as the ideas come. If you have fantastic baby party favors to share, visit Favor Finders and tell us all about it!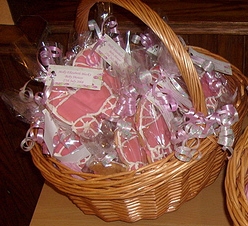 Edible Party Favors

Baby bottles filled with candies, colored rings and tops.

Cloth diapers wrapped with candies, colored ribbon to tie at top.

Cookies in the shape of storks, pacifiers, strollers, or anything else baby-related, icing dyed for gender.

Personalized candy bars, baby's name and shower date on label.

Lollipops in baby shapes, colored by gender.

"It's a..." candies such as Jellybeans or Hearts.

Baby socks filled with candies, colored by gender.
Keepsake Baby Party Favors

Scented candles with personalized labels, colored by gender.

Novelty soaps in baby shapes, colored by gender.

Mini picture frames with sonogram picture and/or baby's name and shower date inside.

Personalized refrigerator magnet with baby's name and shower date and/or sonogram picture.

Flower seed packets, use baby's breath or some other baby-related flower, add label to personalize.
Unique Baby Shower Favors

For a baby girl shower - wrap up girly items such as eyeshadow, lotions, turby towels, etc in cellophane and tie with a pink ribbon.

Popcorn favor - wrap up bags of popcorn with cardstock (colored for gender) and label it "Mommy's name is about to POP!"

For a baby boy shower - make small, see-through packages of cocoa powder and label it "Little Boy's love dirt!" Be sure to note on the label that the "dirt" is really hot chocolate powder.
Baby Shower Games?
You know you're gonna play them...why not get a variety to try?

Printable Games AtoZ has just about any baby shower game you could want so if you aren't interested in a variety pack, click through to find single games!