Graduation Party Favors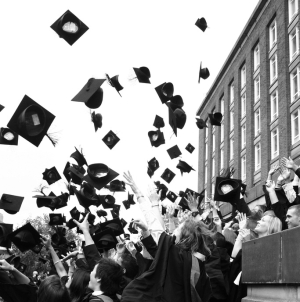 There are a million things to think about when you start planning your Grad's special party. The cake, the food, the decorations, the date, the venue...you probably don't even have graduation party favors on your radar at first.
You should!
Adding graduation favors to your event will make the day memorable not just for your Grad, but for your guests too! We have plenty of graduation party favor ideas for you to browse, so grab your party planning list and get ready to pick the perfect party favor!
Graduation Party Favors Homemade
The first thing to think about is whether you have the time, resources, or inclination to make your own party favors. If the answer is yes, here are several cost-effective and easy-to-make graduation favors.

Personalized diplomas for each guest. Either use 8.5x11 computer paper or, for a fancier style, get parchment paper from your local craft store. Write "Thank You for Sharing (Grad's Name) Special Day!" Underneath write "Congratulations Class of (Year)!" If you have other Grads from the same class attending, you can change the first line to read "Way to go (Grad's Name)!" Roll each one up and tie with a small ribbon in the graduating class's school colors.

Are you a baker? If so, bake cookies in the shape of a graduation caps, gowns, or diplomas. You can buy cookie cut-outs for these shapes, don't worry! Decorate the cookies with the Grad's school colors. Tie them up in cellophane with a match school color ribbon. Add a small "Thank you" tag to the tie.

Bags of school-colored candies. Use either Jelly Beans or M&M's to create small bags of candy using the Grad's school colors. Tie with a matching ribbon and add a "Thank You" tag.

Flower Pens. Get a standard Bic (blue or black). From the craft store get as many small flowers as there are guests in the Grad's school colors. Also get green floral tape. Line the flower stem along the pen and wrap with floral tape. You can use these around the party for decorations in a colorful vase with a label reading "Take One Home" on the front.

Address Books. This one is more for members of the graduating class but can be fun for their friends and families too! Go to the dollar bin in a store like Michael's and purchase as many mini-address books as there are guests. When guests first come in the door, give each an address book and pen with the instructions to gather as many people's contact information as possible. At the end of the party, give a small prize for the person with the most entries in their book. Then explain that these are graduation party favors meant to move on to the next phase of life with the Grads so they can keep in touch with the people they love!
Graduation Party Favors to Buy
There are plenty of graduation favors available for you to purchase if you don't want to make your own party favors. Graduation candy wrappers are such a popular item that they have a page of their own (below). Some favorites -




Graduation Party Favor Extras
Just a few more things you might want to think about as you plan your Grad's party...
Graduation Party Favor Ideas
You know you'd love to hear what other visitors are making/buying for their party!
Visit this site for Free Printable Graduation Invitations. They also offer tons of free birthday invitations and wording samples, as well as ideas for birthday cake designs.
Graduation Candy Wrappers
Edible grad favors are always a huge hit!