Baby Party Favors
A type of baby party favors that are gaining in popularity are for the baby sprinkle.
What is a baby sprinkle you ask? Well...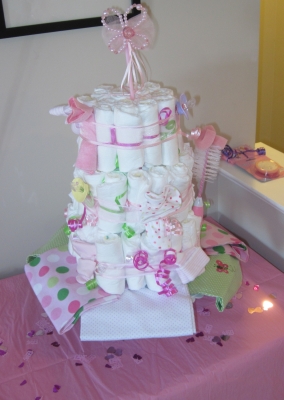 Diaper cake for a baby girl sprinkle
A sprinkle IS a baby party generally for a couple's second child. Some people will only throw a sprinkle if the couple is having a different-sex child than their first or if it's been more than five years since their first. We disagree! PPF feels that ALL babies are special and deserve a celebration of their own so we promote sprinkles for all second and beyond babies!
A sprinkle IS a celebration of the baby's pending arrival. Appropriate decorations are flowers, balloons, and tableware in the colors of the baby's nursery (or neutral if the couple is not finding out the sex!).
A sprinkle IS a chance for the couple to receive well-meaning gifts from friends and family. Most people, if they are close to the family, are going to purchase some sort of baby gift before or after the baby arrives. It is perfectly acceptable to put a "suggested items" list on the back of the invitation which shows the essentials the parents might need. Clothes, while cute and fun to buy, are not usually a big need for a second child.
A sprinkle is NOT a shower. This means that you don't need to decorate every inch of the venue with onesies, booties, and pacifiers hanging from clotheslines. You don't need to have three or four baby party games such as "guess what candy is in the diaper" or "how big is Mommy's belly?"
Even though a sprinkle is not the shindig that a first baby shower usually turns out to be, it's still important for the hostess(es) to provide a nice meal and to thank the guests for coming with a favor. We've put together a list of baby sprinkle unique party favors which fit the bill.
The most popular baby party favors for a sprinkle seem to be cupcakes. Here are a few examples of sprinkle-themed cupcakes -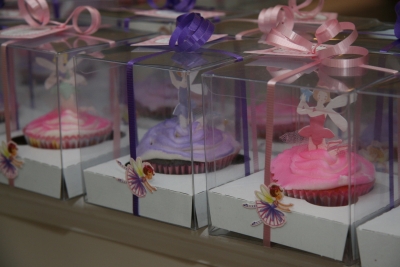 This sprinkle was fairy-themed following the baby-to-be's nursery decorations.
Using the Umbrella theme which is popular for baby showers or baby sprinkles. Including the sprinkles as decorations on the cupcake.
Classy cupcakes with candy beads on icing. Using an elegant jar of sprinkles to promote sprinkle theme.
Besides cupcakes, cute baby party favors include -

Personalized tea bags
Cookies to match either sprinkle theme or nursery theme
Cake Pops with drink umbrellas affixed to the top of the pop stick
Personalized flower seed packets
Personalized Mint tins



We'll leave you with another creative party favor specific to the baby sprinkle theme...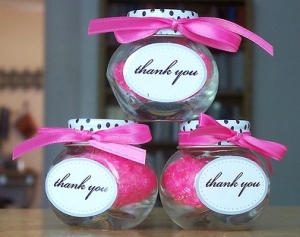 These cute little jars hold bags of sprinkles that the guests can take home to use on their own desserts! Visit Emily at

Emily in the Desert

for more fabulous party ideas.





Back to Unique Baby Shower Favors
Return from Baby Party Favors: Sprinkle to Home.