Batmitzvah Party Favor
Many daddies feel that nothing is scarier than watching their little girl grow up! Alas, time moves forward so celebrate each milestone!

As you plan the party for your little princess's journey into her teen years, be sure to include a BatMitzvah party favor for each guest so they remember the event.


Depending on the family, the Batmitzvah can be celebrated at twelve or thirteen. The term simply means "Daughter of Commandment" and signifies the time when the girl child takes on responsibility for her own faith, rather than leaving it in the hands of her parents. In the Orthodox tradition, the girl does not lead the Torah service, as women are not allowed to lead communal religious services; however, more progressive Orthodox churches may allow it.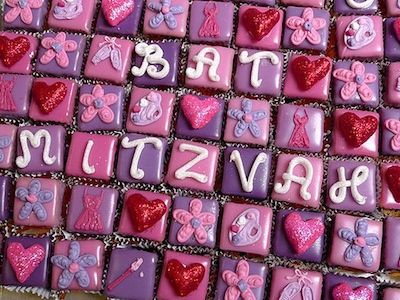 Favors by the very talented and creative Konditor & Cook!
Batmitzvah Party Favors
Floral Leis. No matter what the party theme, girls love to dress up! Give each guest a colorful lei as she comes into the party and then send it home as your favor.
Bath Set. Pamper your guests by sending them home with a small bag of bath treats. Use organza bags and fill with any combination of: bath beads, loofah sponge, bath gel, bath salts, scented candle, book. Tie the bags off with a pretty ribbon (matching party colors and/or guest of honor's favorite color) and attach a personalized tag with the name/date of the event and a message such as "Pamper Yourself!"
Cookies. Sweet treats are always a favorite with the younger crowds, and cookies are the perfect treat for Bat Mitzvah personalization. You can keep the cookie round and decorate with symbols such as the Torah, the girl's name, and the ceremony date. Or you can actually shape the cookies like a traditional Bat Mitzvah symbol. Add "Mazel Tov" for congratulations!
Chocolate Bars. Another favorite sweet treat! Purchase the girl's favorite candy bar (or just go with traditional Hershey's Bar) and personalize with a label. You can make the labels yourself (using regular name tag labels available at an office supply store) or you can purchase them (using links or right). Be sure to personalize the label with the girl's name, ceremony date, and an applicable phrase.
Secrets Set. Young teen girls love to tell and keep secrets! Purchase small diaries for each girl (depending on budget you can get anything from pretty little notebooks to small diaries with lock & key). Also purchase colored pens, one per guest. Using a colorful ribbon, tie the pen around the diary and attach a personalized tag with the name/date of the event and a message such as "Keep your Secrets Safe!"

Back to Adult Party Favors
Return from Batmitzvah Party Favors to Home.