Beach Wedding Party Favor
by Esme
(California)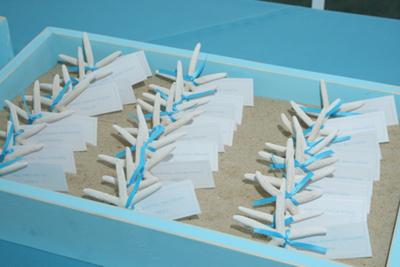 Starfish Favors

We planned a beach wedding because we met in Nags Head, NC and wanted to honor that moment. We decided we wanted beach wedding favors for each guest so that they could remember our special day in the sand and surf.

Because we were really familiar with the area where the wedding was to take place, we knew there was a small seashell shop run by one of our local favorites, a woman we'd gotten to know over the years. Six months before the wedding we called her and asked if she had starfish in bulk, or if she could get them. She said certainly!

We created the tags to attach to the starfish prior to the wedding weekend. When we got there (a few days early), we picked up our batch of starfish and a bottle of wine and went home to spend the evening on our beachfront deck putting together our favors.

Not only were the favors fantastic but we created a new memory while making them! To add flair, we put them all in mini-sandboxes positioned by the door for guests to take on their way out!



Return to Home.