Fall Wedding Favor Ideas
Falling in love; the bride's veil falling over her face; the sound of footfall down the aisle...Fall is a season made for weddings!

Many people think of weddings as a spring or summer event. We've noticed, however, over the past five years or so, that fall weddings have become increasingly popular. Many of our visitors are asking for fall wedding favor ideas so we came up with a list of the best ones we've heard about or seen ourselves.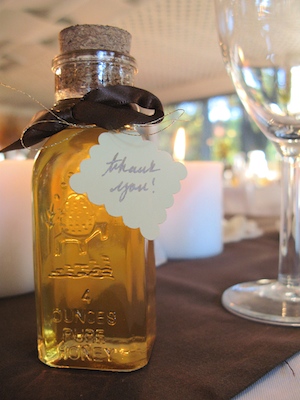 Honey Jar Wedding Favor
Affordable Wedding Favors -- Fall
Honey Jar Favor. Purchase small jars with lids or corks from a craft store (or online). Get local honey (you might be able to get a deal from the local honey vendor if you include the name of their company on the favor). Pour honey into each jar and close it. Using a fall-colored ribbon (think red, brown, tan, dark green), attach a tag with the couple's name and wedding date. A twist on this could be maple syrup in place of honey if you prefer.

Fall Leaves Wedding Favors. Leaves may be the most popular of the fall wedding favor ideas. There are quite a few things you can do with this item. Here are a few: (1) Purchase silk leaves from a craft store. Create a small tag with the couple's name, date, and location and hot glue it onto the center of the silk leaf. Tie a fall-colored ribbon around the stem. (2) Homemade -- The fall before the wedding, collect real leaves from your hometown. Try to pick something akin to a Maple Leaf (depending on where you are located) as they are a decent size and usually change colors nicely. Press the leaves between book pages until they are dry (takes about 2-5 days on average). Once dry, place the leaves on poster board and cover with clear contact paper (sticky). Cut each leaf out. On the back of the leaf (posterboard side), write a personal message for guests. (3) Variety of leaf ideas -- leaf-shaped candles, leaf-shaped chocolates, leaf-shaped soaps, leaf-shaped cookies are just a few favorites.

Pinecone Favor. Collect pinecones (or if you don't live in an area where you can collect them, purchase them from a craft store or online). To add elegance, spray them lightly with a glitter sheen (gold, silver, orange, red). Hot glue a tag with a fall-colored ribbon into the center of the cone. Include a personal message to guests on the tag.

Apple Cider Mix. Purchase small bags of apple cider mix. Personalize them with a tag attached to the back, front, or side with a message to guests. Tie a fall-colored ribbon around the packet. Definitely falls in the category of unique and useful fall wedding favor ideas.

Apples. Another versatile item which are the quintessential symbol of Autumn and popular fall wedding favor ideas. A few apple ideas -- (1) Caramel Apples. Buy them or make them yourself and personalize with a tag including wedding information. These tasty treats will immediately conjure up thoughts of crisp, fall air and county fairs. (2) Apple Butter. Buy it or make it then fill small mason-style jars. Cover with a small piece of fabric matching your fall-themed wedding colors. Tie a ribbon around the neck of the jar and attach a tag with a personal message to guests. (3) Apple-shaped candles -- scented and tied with a personalized label.




Back to Creative Wedding Favors.