Graduation Party Favor Ideas
Graduation party favor ideas are always in high demand. Think about all the various graduations happening in the spring:
Pre-School
Kindergarten
High School
College
Graduate School
Trade School
Medical School(which has different programs of its own!)

During grad season we get TONS of requests for unique party favors. We are also coming across some really fantastic ideas that we just have to share with you!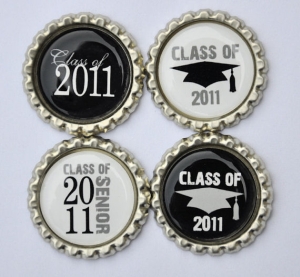 Handmade Graduation Bottle Caps.
You can order these
from Scrapbook Studio at Etsy.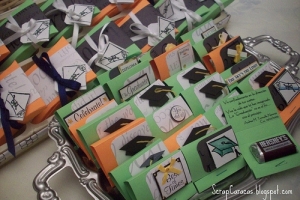 Inspirational Graduation Chocolates.
The outside is decorated with
Graduation-themed embellishments and the inside shares
a unique quote about graduation. Thanks Nana!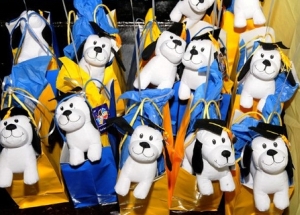 Whimsical Graduation Bags.
Small colored paper bags in Grad's
school colors. Filled with treats and a "graduating puppy." These can be
used for a fun older (high school or college)Grad but are also perfect for PreSchool or Kindergarten! Thanks Sand Box!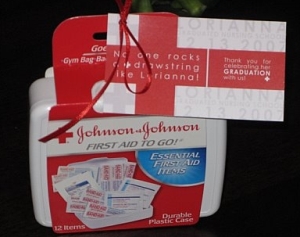 Nursing School Graduation.
A first-aid kit with a clever saying related
to Nursing School. For an academic graduation, you could take a first-aid
kit and have the tag say something witty like "Congratulations on making it
through (type of school). Here's a little trinket to help you patch up any
bumps or bruises along your next path!" Thanks Celine!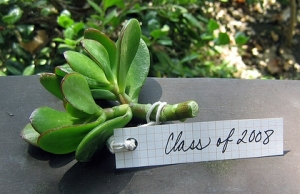 Plant Sprig.
Any type of plant will do though we suggest something a
little more hearty like this Aloe plant. Attach a tag with
"Congratulations Grad!" on one side and a little saying
such as "Remember (Grad's Name) as s/he "grows" into the
next phase of life!" Thanks Angie!
We'd love to share your unique party favors with our guests! Email Desiree at desiree(at)perfect-party-favors.com with your .jpeg and description.


Back to Graduation Party Favors
Return from Graduation Party Favor Ideas to Home.