Luau Party Favors
A really fun, sexy way to share your love of summer fun is by hosting a luau. Your guests will absolutely LOVE dressing the part, dancing the Hula, and going home with perfect luau party favors!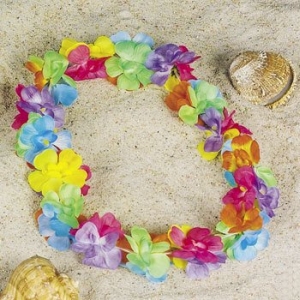 A couple of fun luau party ideas - ask your guests (on the invitation) to wear Hawaiian prints - shirts for the men, flowery dresses for the women. Light the party (if it's outside) with Tiki Torches. Also use paper lanterns and string lights(inside or outside). Decorate with fresh fruit, colorful flowers, coconuts, and pineapples.
Party Favors Homemade for your Luau
Leis. Get them in all sizes and colors. Attach a small tag with a festive ribbon that says "You've just been Lei'd at (Host's Names) party!" Give them to guests as they enter the party so they can wear them during and then send them home.
Flowers. Depending on price and style, you can either buy them fresh or silk. Big with bright colors is a necessity. Give clips to the ladies so they can wear them in their hair and pins for the men to fix them to their shirts. Popular Hawaiian flowers - Orchids or Hibiscus'.
Hawaiian Treat. Buy Macadamia nuts and package them in cellophane baggies (green for grass or bright colors like orange and pink). Tie a personalized thank you with a festive ribbon around the neck. Maybe a few lines about why Macadamia nuts are important in Hawaiian culture.
Hurricane Glasses. Purchase plastic hurricane glasses and fill with any coconut or pineapple flavored treat. Top it off with a paper umbrella and wrap up in cellophane. For extra fun, personalize the glass with indelible marker or paint.
More Luau party favor ideas
Find great Silk Tropical Leis
or Tropical Accents Leis
from Shindigz.
Use a Luau Coconut Cup
to package your luau party favors.
Add Luau Print Bucket Hats
to any of your favor bags or use them to package a fun summer party favor!
Hand a Hibiscus Printed Fan
to each guest as they walk in.
Everyone will love having a Plastic Tiki Mask
during the party and after!
Give the ladies a Flower Trimmed Canvas Totebags
to use during the party and for the rest of the summer.
Want to keep Looking?


Back to Summer Party Favor
Return from Luau Party Favors to Home.