Pool Party Favors
Summer, summer, summer time...a chance to sit back and unwind! Whether you are looking for a child party favor for your little one's birthday, or you need pool party favors for your adults-only swim, we've got ideas for you! Buying pool party favors is harder than you may think so the majority of our ideas are party favors homemade!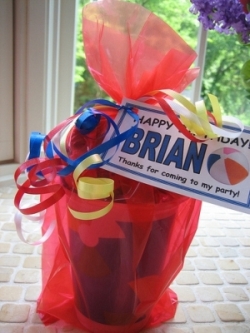 Please visit
Birthday Parties for Kids
for more ideas like this!
Pool Party Favors: Children's Pool Party
Swim Fun Bucket. Purchase small, plastic sand buckets in a variety of colors. Using a Sharpie marker, write each child's name on the front. In the bucket include things that the kids can play with during the pool party - an inner tube (deflated); diving sticks; floating toys, goggles, and snorkels are some of the most popular pool items.
After the party Pack. Focus on comfort after a wild day of swimming with friends! Depending on the number of children, you can purchase personalized beach towels with each child's name or, if you have a larger number of kids, buy beach towels in bulk in a theme that the birthday boy/girl likes - Toy Story, Cars, Tinkerbell are easy to find! If you want to add a little more, tie the towel with a matching ribbon and attach a snack to it like fruit snacks with Finding Nemo (sticking with the pool theme) on the package.
Summer Essentials. Create a little "summer essentials" bag for the kids. For a fun twist, purchase inexpensive drawstring bags in a variety of colors and use permanent craft paint to personalize each bag with guests' names. In the bag add a bottle of sunscreen (to get REALLY creative, personalize the label for the party!), a squirt gun (if it's okay with the other parents), plastic sunglasses, and a sun visor.
Noodles. Buy as many pool noodles as you have kids coming. Personalize using a Sharpie with each child's name. Hand them out at the beginning of the party so the kids can use them while swimming and then send them home!
Pool Party Favors: Adults-only Swim
Flip Flops. An undiscovered little gem - Michaels (craft store) sells flip-flops in a variety of colors and sizes during the spring for $1 each! For this favor, buy male and female sizes/colors. Tie them up in cellophane bags and attach a "thank you" card to each. If you want to get your adult friends giggling, instead of presenting them wrapped, have a flip-flop craft table and allow each guest to decorate their own flip-flops to take home!
"It's 5 o'clock Somewhere." Purchase plastic margarita glasses. In each one put a drink mix (margaritas if you want to stick with the theme of the plastic glass), colorful plastic ice cubes, and a package of funky beverage napkins. Tie each glass up in a cellophane bag with ribbon and attach a "thank you" card which also reads the quote - "It's 5 o'clock Somewhere!"
Beach Survival Kit. Find little mesh bags and fill them with sunscreen, sunglasses, flip-flops, beach towels, SPF chapstick, and/or a drink coozie. Add/change items depending on number of guests.
CD. Everybody loves summer songs! Create a CD of water-themed and/or summer-themed songs. Some favs include - "Summertime" by DJ Jazzy Jeff & the Fresh Prince; "No Shoes, No Shirt, No Problem" by Kenny Chesney; "Hot Fun in the Summertime" by Sly and the Family Stone; "The Boys of Summer" by Don Henley.

Back to Summer Party Favor
Return from Pool Party Favors to Home.