Retirement Party Favors
Retirement party favors could have their own whole website! Why...? Because the favors could be tailored to the specific career.
For teachers, try the "endless summer" magnet. For the caterer, mini-deserts wrapped in cellophane or mini-quiches placed in small boxes to send home with guests. For the football coach, shot glasses with the team's logo printed on each or mini-footballs personalized with the party information. For the government official (police officer, FBI, etc), personalize sugar cookies with a design of the appropriate faction's badge.
See? The options are limitless!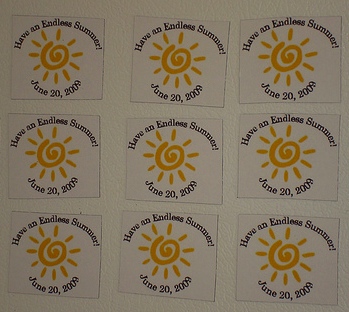 These cute magnets are best applicable for teachers (hence the "endless summer") but could be modified to say "endless weekends" for the office worker.

If you don't want to personalize the favors based on the career, you can use any of these more general ideas below.
General Retirement Party Favors
Commemorative Coffee Mugs. Order coffee mugs (from a place like Snapfish.com) with a message about the retiree and the party date. Fill the mug with coffee treats such as a gourmet coffee packet, little chocolates, and a biscotti. Nothing screams "work" like coffee in the morning!
For the Traveler. If the retiree is going to travel, give out little world globes with a saying such as "happy trails to you" and the retiree's name and party date. If you can't find globes or want an alternative, try little compasses.
For the Golfer. Purchase (or collect) golf balls. Personalize them with the retiree's name and party date. A fun way to use these? Have the guests pick up their golf ball as they walk in and have it correspond with a door prize.
For the Sweet Lover. Mini-boxes of chocolates, little bags of candies, cookies wrapped up in the retiree's favorite color are just a few.
A Toast. Give out little bottles of champagne or wine to toast the retiree. For added personalization, purchase labels for the bottles with the retiree's name and party date.


Back to Adult Party Favors
Return from Retirement Party Favors to Home.