Sweet Sixteen Party Favors
Obviously, most young men are not going to have a sweet sixteen party! For that reason, these sweet sixteen party favors will be geared towards the young ladies turning sixteen. However, if a parent wants to celebrate the big 1-6 for their boy, think "coming of age" themes such as getting a driver's license.
In decades past, a young woman's sweet sixteen party marked her entrance into adult society. As a matter of fact, in the American South, it meant she was old enough to be eligible for marriage! Today, we highlight the sweet sixteen as a way to celebrate the passing from adolescence into young adulthood.
When planning your sweet sixteen party favors, you want to think about the personality of the guest of honor. Is she quiet or shy? Is she fun and outrageous? Does she like bold colors and prints? Would she prefer a classic, understated style? These answers will help you find the right direction for your decorations and your sweet 16 party favor ideas. Also, you'll need to think about the guest list. If this is a party for the young lady and her same-aged friends, you can gear the favors towards them. If it's a family party, unisex/uniage favors would be more appropriate. We'll cover ideas for both below.
Sweet Sixteen Party Favor Ideas
---
Beauty Kit. Help your young ladies (and guests) gracefully enter womanhood with a beauty supply kit. Include lipstick, eyeshadow, hand cream, a small scented spritzer, and nail polish. Package them in a cute box (shaped like a purse or princess carriage) and include a personalized tag.

Keychain. If you are in a state where driving becomes legal at sixteen, this is a fantastic favor! Buy double-sided photo keychains. On one side put a picture of the guest of honor as a baby, and on the other a recent picture. Tie a personalized thank you tag onto the chain.

Personalized Candies, Cookies, Mints. Personalize any type of candy with a label using an image similar to the one at the top of this page. Include the birthday girl's name and birthdate.

Tiaras. Many girls want their sweet sixteen to be a princess party. You can buy inexpensive, plastic tiaras at a store like Michaels or Toys R Us. For an added twist, personalize the tiara with letter stickers.

CD. Music is never more fun than in your teen years. Confer with the birthday girl about her guests favorite pop stars and/or make a CD of her favorite songs for her guests to remember her by.

Photo Gifts. This one is especially geared towards a family party. Feature your little gal on a commemorative photo favor. Examples include coffee mugs, keychains, small frames, tree ornaments, mousepads, playing cards, tee-shirts
---
Unique Sweet Sixteen Party Favors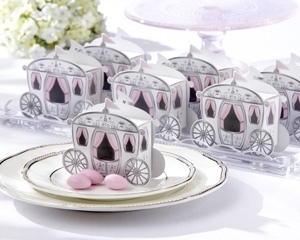 A cute way to box any type of party favor for the princess-themed party!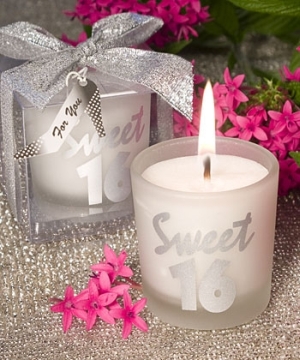 Elegant candle personalized for the sweet sixteen party.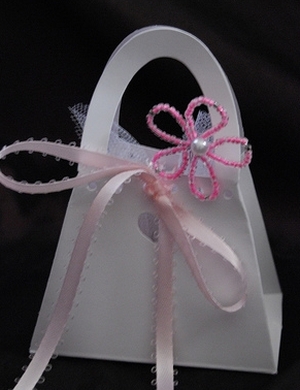 Sweet purse package for classy young lady favors. Visit Simply Something Special to order.




Back to Unique Birthday Party Favors
Return from Sweet Sixteen Party Favors to Home.