Tea Party Favors
Big hats, krumpets, lace, fine china, sugar cubes, sweet cream, paisley linens...all in a lush garden setting, complete with white iron tables and chairs for the guests. Can you picture this?! It's the setting of your next tea party! And what better way to make your party memorable than with the perfect tea party favors?!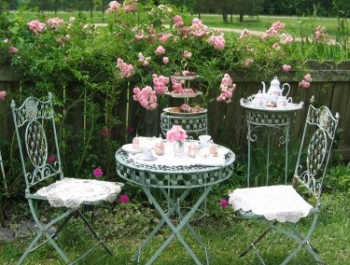 Tea parties cater to two very different groups - the ladies (adults), and the girls (children). We will cover tea party favors for both below.
Child Party Favor: Tea Party
I'm a little teapot, short and stout, here is my handle, here is my spout. When I get all steamed up, then I shout - 'Tip me over and pour me out!'
Tea Party Companion. Purchase a variety of small stuffed animals -- bears, kittens, elephants, monkeys, bunnies, unicorns, etc -- one per little lady. Attach a card to each animal with a place to write in the animal's name and favorite tea. Once each guest arrives, she can choose a "tea party companion" to keep. Tell each child to name their animal and decide upon their animal's favorite tea. These companions can have tea with the girls and go home with the guests! For added fun -- use these companions as the basis of games or projects such as making hats or scarves or little bracelets for their new friend!
Personalized Plastic Tea Set. Purchase a plastic tea set (a place like Amazon.com is best). Take a matching cup and saucer for each guest (depending on the number of guests you may have to purchase more than one complete set), and personalize it by writing each guests' name on the cup with a pretty pen color (sparkly pink perhaps?). Put the sets in an organza bag and tie it off with a colorful ribbon. The girls will love this fun way to remember their tea party when they are playing on their own at home!
Tea Purse. Purchase tiny purses in a sweet theme (think polka dots, flowers, rainbows, etc). Inside each purse add a small lipgloss or chapstick, plastic bangle bracelet, and tea bag. If you sew or are crafty, personalize the purses with each guests' name.
Decorative Hats. Purchase small, straw hats (either sized for a child or for one of their dolls. If you choose to go with doll size, ask each guest bring their favorite doll friend to the party). Decorate the hat with ribbons and flowers. Give them to the girls at the start of the party for themselves or their doll to wear and then send them home as favors.
Adult Party Favors: Tea Party
Sugar Bowls. Go to a dollar store, thrift store, or yard sale and purchase as many sugar bowls as you'll have guests. The more unique each one is, the better! Put a few flavored tea packets in each bowl. Tie a ribbon on the handle with a "thank you" note. Use them as a decoration during the party and at the end, let guests choose their favorite to take home!
Tea Cups. Same as above -- purchase unique tea cups at a discounted price. Personalize with a tag tied to the handle with each guest's name. Present the cup at the beginning of the tea and allow guests to use them. If you'd rather give them at the end, fill with a few sweet treats or tea bags for guests to take home.
Brooch. Go to the thrift store, Goodwill, or an antique shop and purchase old-fashioned brooches for each guest. Put them in a basket and have each guest pick one as they arrive. Ask them to wear the brooch during the party. For additional fun, have guests make up a history for their brooch and share the silly stories during tea!
Tea Towels. Purchase tea towels in your party's theme color. Roll them up and tie them off with a matching ribbon. Attach a "thank you" card to the ribbon.
Charm & Recipe. Purchase small, silver charms in the shape of teapots or teacups. Affix each charm to a recipe card. On the recipe card print the recipe for a fancy tea scone.
Purchase Tea Party Favors
Would you prefer to buy your tea party favors premade? Here are some of our favorites --


Back to Adult Party Favors
Return from Tea Party Favors to Home.