Wedding Reception Ideas
for Unique Party Favors
So you've finally made it to the big day! Along the way you've mastered the art of engagement party favors, wedding shower favors, and bridal party favors; now it's time to plan the final favor for your wedding - reception favors.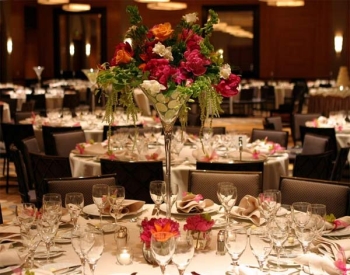 Creative Wedding Favors
Many people choose to go with wedding reception ideas that match the theme of the event or couple. For example, an Italian couple's wedding offered little glass bottles of dried red peppers as the favor with a tag attached to the neck displaying a "thank you" and the event name and date. At a beach wedding, the favor was a small flip-flop candle and personalized matchbook (with wedding info) fixed to a colorful notecard. These were a big hit!
Traditional Wedding Favors
There are also plenty of couples who choose to go with the more customary wedding reception party favors. Votive candles, mint tins, toothpicks, matchbooks, candies, bubbles, seed packets, engraved shot glasses, personalized pilsner glasses, personalized mini wine bottles, personalized fans for outside weddings, musical CDs, and placeholders that also serve a second purpose (a bell, a photo stand, etc).
Unique Wedding Favors
A new trend we've been seeing are favors that announce a donation to an organization of the couples choosing. For example, at a recent wedding, in lieu of favors, the couple donated the money they would have spent on favors to a group sending care packages to overseas soldiers. There was a tiny toy army man glued to the card that explained the donation. It was really awesome!
Below are links to some of the most popular wedding reception party favors that you can purchase. If you'd like help coming up with a personally-themed favor, please contact us.
Wedding Reception Ideas
Note: Click on any of these products below to view the full line and hundreds of additional options.



Back to Creative Wedding Favors.