Dora Party Favors
"Dora, Dora, Dora, the Explorer!" Every household with a child under the age of four, boy or girl, knows and loves Dora! Whether she's chasing away Swiper ("Swiper no swiping!"), or trying to get past the Grumpy Old Troll, Dora is always on a fantastic adventure. The best thing about Dora is that while she's off saving her friends and doing great things for the world, she's teaching your little one directions and listening. That's why we love Dora-themed parties and Dora party favors!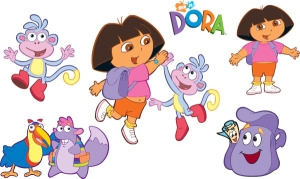 Another theme that seems gender-specific but actually is loved by girls and boys alike!
Dora Party Favors for Children
Backpack - Simulate Dora's friend backpack by purchasing purple sacks or bags and filling them up with "helpful" items such as: little maps, compass, binoculars, flashlight, watch, whistle, Dora fruit snacks.

Dora baggies - Either purchase Dora-themed party bags or else buy them in bright purple. Fill them with any combination of: Dora toy figures, Dora stickers, Dora coloring book/crayons, Dora hair clips (for girls), Spanish language flashcards, Dora story book, Dora DVD, candies.

Cookies - Many options for Dora-themed cookies! Shape them like any of the characters (Dora, Boots, Diego, Map, Backpack, Swiper) or use an edible "sticker" to cover rectangular cookies. Check these out -


Cupcakes - Dora, Boots, and pretty flowers decorate these festive cupcakes by Kati's Kupcakes!

Purchase Dora Party Favors
Would you like to buy either pre-packaged favors or favor items in a Dora theme? Celebrate Express takes the guesswork out for you!


Back to Kids Birthday Party Favors.