Tinkerbell Party Favors
We love fairies! They are whimsical, pretty, sweet, and make darling party decorations! And what fairy better to represent them all but Tinkerbell?! Tinkerbell party favors are so much fun to create because you can make them really magical for your little lady guests.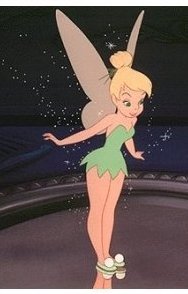 We have suggestions below for both homemade party favors and pre-packaged Tink party favors. Enjoy!
Tinkerbell Party Favors for Children
Magic Wands - Buy 6-inch wooden rods (often called dowels) from a craft store. Paint it a pretty color (pink, green, yellow) and sprinkle it with glitter while wet. Then either make little stars out of thick posterboard or foam shapes (you can even buy them already cut in wood at most craft stores). Paint/glitter them same as above. Or you can buy different embellishments to stick onto the stars. Affix the stars, back-to-back, around the rod. Tie a glittery ribbon under the star. Little girls will LOVE playing with these at the party and at home!

Pixie Dust - How does Peter teach Wendy to fly? "With faith, and trust, and little bit of...pixie dust!" Create little bags of pixie dust for your guests by mixing together party confetti and glitter in sparkly colors. Package in small cellophane baggies and tie tightly with a rubber-band. Also tie a shiny ribbon around the rubber-band with a tag reading "Pixie Dust." If you don't want to use cellophane bags for fear they won't close tightly enough (depending on the age group of the party-goers), you can use plastic ziploc baggies instead.

"Pixie Pack" - Buy crinkly, colorful cellophane bags. Include any combination of: Tink color pages/crayons, pixie sticks, bubbles, Tink or fairy stickers, hair bows, Tink play figures, face glitter, lip gloss, pink and green hershey's kisses.

Edible Fairy Favors - Bake cookies in fairy shapes (using cookie cutters!) and decorate accordingly. Better yet, bake cupcakes, decorate with green icing, and include a toothpick with Tink picture at the top. Little guests will love this sweet treat!
Purchase Tinkerbell Party Favors


Back to Kids Birthday Party Favors.