Princess Party Favors
We all have a little inner-princess just dying to get out! Indulge your baby girl in a princess party!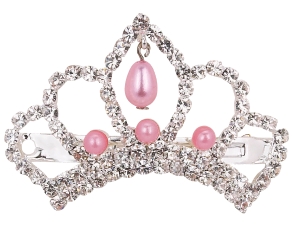 As with all party favors for children, creating the treat is lots of fun! If you are going to handmake the favors, here are a few ideas to get you started:

Packaging the favor - the perfect way to hand out your princess treats is in a gauzy pouch. You can get them in one color, with whimsical prints, or even with little beads! These pouches can be found at a store like Michaels or you can order them from a favor supply company. Another option would be to purchase purse-shaped boxes in purple (think royalty) and decorate each with the child's name, glitter, and stickers. If you have a crafty little one, she can help with these!

Inside the Princess Pouch/Purse - plastic jeweled ring and/or ring pop, shimmery hair barrettes, strand of colorful plastic beads, mini-tiaras, mini-fairy wands, princess-themed fruit snacks, purple/pink packaged candies such as hershey's kisses.

Specific Princess themed favors - if your little lady loves a particular princess, you can certainly match the favor! The Disney princesses are very popular, specifically: Rapunzel from Tangled, Tiana from The Princess and the Frog, Belle from Beauty and the Beast, Ariel from The Little Mermaid, Aurora from Sleeping Beauty, Cinderella, and Snow White. You can add any of the items above to your princess pouch/purse and then include stickers for the appropriate princess theme.

Buying premade favors - Here are some options for finding a la carte princess items as well as themed favors.
Princess Party Favors and Supplies
Celebrate Express has a full line of Princess party supplies for you to peruse. Click on either image below to access a variety of additional options!



Back to Kids Birthday Party Favors.