Train Party Favors
Trains have always been a favorite plaything of little boys. In my grandfather's generation, all a boy wanted for his birthday or Christmas was to own an engine and then build and re-build a track around his bedroom. Inevitably, other toys became more popular and trains fell by the wayside. Then Thomas the Train was brought to life and trains made a comeback! These days, trains of all shapes, materials, and sizes can be found in toy stores and back on the shelves of little boys.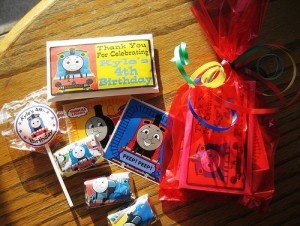 Please visit
Birthday Parties for Kids
for more ideas like this!
We'll give you options for both generic train favors and Thomas the Train party favors as both are largely popular.
Train Party Favors for Children
Packaging the favor - use party favor bags or party favor boxes in primary colors or generic "happy birthday" print. Find bags or boxes in the shape of a train. To get really creative, use conductor's hats upside down to hold the items.

Inside the favor holder - any combination of the following items - wooden toy train, wooden train whistle, train children's book, train conductor's hat, train coloring book/crayons, train stickers, train cookie cutters, train fruit snacks, various candies.

Edible train favors - cookies and cupcakes can be created in any train, whistle, cap, track shape.

Thomas the Train favors - if your child loves Thomas you can take any of the above suggestions and tailor them using specific characters; however, there are SO many pre-packaged options available for purchase that we honestly recommend you go for these. Some options below.
Pre-packaged Train Party Favors
Decorate Your Own Train Favor - a fun craft for the kids and a great way to remember the party during playtime at home!

Train Favor Box - a cute way to package your general train favors.

Train Party Deluxe Favor Set - a kit already put together with many of the items listed above.

Thomas and Friends Deluxe Favor Set - for your Thomas specific party.

Thomas and Friends Favor Boxes - if you'd like to create your own Thomas favors, use these boxes and add any of the items listed above.


Back to Kids Birthday Party Favors.